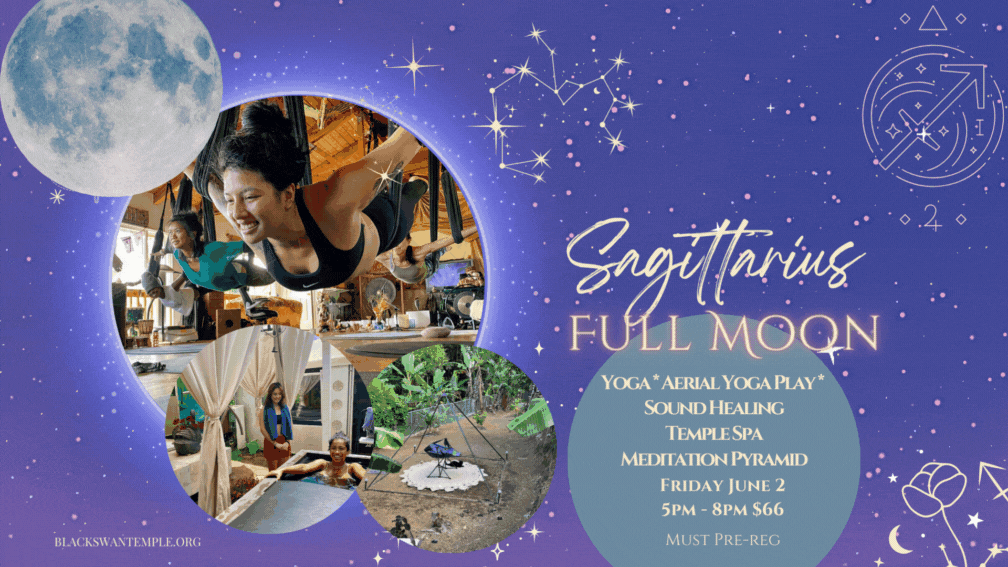 𝗦𝗮𝗴𝗶𝘁𝘁𝗮𝗿𝗶𝘂𝘀 𝗙𝘂𝗹𝗹 𝗠𝗼𝗼𝗻 𝗧𝗲𝗺𝗽𝗹𝗲 𝗖𝗲𝗿𝗲𝗺𝗼𝗻𝘆!​​​​​​​​
​​​​​​​​
𝙎𝙖𝙜𝙞𝙩𝙩𝙖𝙧𝙞𝙪𝙨 => 𝙄 𝙐𝙣𝙙𝙚𝙧𝙨𝙩𝙖𝙣𝙙! 𝙄 𝙏𝙧𝙖𝙞𝙡𝙗𝙡𝙖𝙯𝙚! 𝙄 𝙖𝙢 𝙁𝙤𝙘𝙪𝙨𝙚𝙙! 𝙄 𝙡𝙞𝙫𝙚 𝙢𝙮 𝙡𝙞𝙛𝙚, 𝙣𝙤𝙩 𝙖𝙣𝙮𝙗𝙤𝙙𝙮 𝙚𝙡𝙨𝙚'𝙨. ​​​​​​​​
​​​​​​​​
𝗠𝘆𝘀𝘁𝗶𝗰𝗮𝗹 𝗔𝗹𝗰𝗵𝗲𝗺𝘆 𝗔𝗰𝘁𝗶𝘃𝗮𝘁𝗶𝗼𝗻​​​​​​​​
Featuring a 2 hour Yoga, Breath Work, Aerial Yoga Play & Sound Healing Journey​​​​​​​​
​​​​​​​​
𝗧𝗲𝗺𝗽𝗹𝗲 𝗦𝗮𝗻𝗰𝘁𝘂𝗮𝗿𝘆 𝗘𝘅𝗽𝗲𝗿𝗶𝗲𝗻𝗰𝗲​​​​​​​​
Followed by time enjoying our Temple Sanctuary Farm Grounds amongst our orchard, herb, pineapple, blue lotus flower and rose gardens, Meditation Pyramid, Spa, Fire Circle and Star Gazing!​​​​​​​​
​​​​​​​​
𝗙𝗿𝗶𝗱𝗮𝘆, 𝗝𝘂𝗻𝗲 𝟮𝗻𝗱​​​​​​​​
𝟱𝗽𝗺 - 𝟵𝗽𝗺 $𝟲𝟲​​​​​​​​
Max 6 people​​​​​​​​
Must PreRegister​​​​​​​​
No Walk Ins.​​​​​​​​
​​​​​​​​
Many blessings at this expansive time!​​​​​​​​
​​​​​​​​
𝘏𝘦𝘢𝘵𝘩𝘦𝘳 & 𝘋𝘰𝘯𝘯𝘺 𝘙𝘦𝘨𝘢𝘭​​​​​​​​
𝘉𝘭𝘢𝘤𝘬 𝘚𝘸𝘢𝘯 𝘛𝘦𝘮𝘱𝘭𝘦​​​​​​​​
𝘔𝘺𝘴𝘵𝘪𝘤𝘢𝘭 𝘈𝘭𝘤𝘩𝘦𝘮𝘺 𝘌𝘹𝘱𝘦𝘳𝘪𝘦𝘯𝘤𝘦𝘴​​​​​​​​
Experience healing, transformation, and empowerment through Mystical Alchemy Yoga, Breath Work, Aerial Yoga Play, Sound Healing, etc.
Heather Regal Salmon & with live music by Donny Regal
Our program begins with a special Mystical Alchemy Full Moon Experience which includes yoga, aerial yoga play, and sound healing. We start with a 45-minute Hatha/Kundalini Yoga warm-up to ground, connect with your breath, and release tension from the spine. This will be followed by a fun, therapeutic style of aerial yoga that brings in your inner child, promotes empowerment, and instills inspiration.
The session completes with a 30 to 45-minute Sagittarius Full Moon Sound Healing Meditation with 432 Hz frequency Crystal Singing bowls and Donny's live music and soundscapes.

After the class you can relax and enjoy our Temple Spa amenities which include Hot Tub, Far Infrared Sauna, Cold Plunge and a 10' Copper Meditation Pyramid.

Maximum of 6 participants.
Must Pre Register! No Walk Ins!
This is a Mixed Gender Event!
PHYSICAL RESTRICTIONS AND CONTRAINDICATIONS FOR AERIAL YOGA
* Pregnancy beyond first trimester
* Glaucoma
* Recent Surgery
* Heart Disease
* Very High or Very Low Blood Pressure
* Easy Onset Vertigo
* Osteoporosis or Bone Weakness
* Recent Concussion or Head Injury
* Head Cold, Flu, or Sinusitis
* Hiatal Hernia or Disc Herniation
* Recent Stroke
* Morbid Obesity
* Artificial or Re-Surfaced Hips
* Botox (within 24 hours of class)
OPTIONAL ADD ONS
Healing Session with Heather ($150)
Acess Consciousness, Energy & Sound Healing
Coaching Session with Donny ($90) -
Life Coaching or NVC (non violent Communication)